This years trip to the Nudibranch Safari at Gulen Dive Resort was a success, just like the trip in 2013. A lot of very knowledgeable and pleasant participants were great company during my five days stay. Unfortunately, a lot of rain the week before, introduced a significant amount of "biological material" that covered the hydroids many nudibranchs thrive in. This made it difficult to spot the tiny critters this year. In the end I prefer to blame the conditions rather than my fading eyesight.
At last, I found the Berghia norvegica (new species)!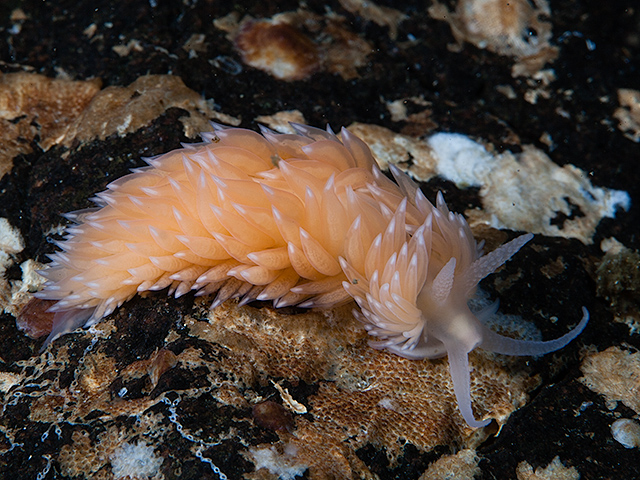 At Gulen, in 2010, Christian Skauge and Bjørnar Nygård, found a nudibranch they were unable to identify. A year later, they found a couple more, but unfortunately send only one to Jussi Evertsen and Torkild Bakken at the University in Trondheim, for identification. Jussi end Torkild soon suspected this was the Berghia norvegica, but with only a single specimen available, a formal identification could not be done. B. norvegica had only been registered once before, in 1938 by a Swedish zoologist who received a new nudibranch from the Trondheim Fjord. In 2012 several new potential B. norvegica were found and studied. The identity was confirmed after comparison of the tongue (radula) with the description of the individual from 1938.
Urged by this history, I turned every rock I could find below 20 meters. This went on the entire week. I was told this was the favorite habitat of the B. norvegica. On the very last dive of the week, I returned to one of the previous locations, giving it a second attempt. Christian told me it had been found there last year, and I hesitated to give up. I plunged down to 40 meters, hardly having any time for the wolffish who greeted my on the way down. I aimed for a rock that looked a bit too big to move. For some reason, I decided to try anyway. I was immediately rewarded. When I finally managed to flip the rock over, two bright orange nudibranchs smiled to me. After a 24 minutes photo shoot, I realized it was time to return to the surface. An 18 minutes deco-stop on 100% oxygen was the penalty for ending a series of 12 dives in 4 days like this. It was all worth it!
A sea hare with a shell (new species).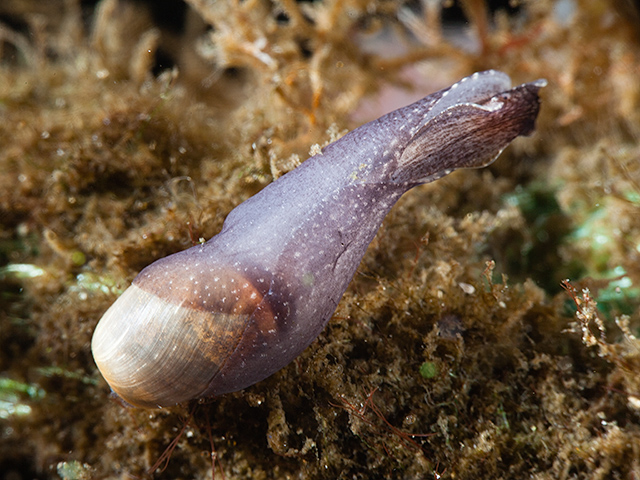 From several of my companions on the Nudibranch Safari, I heard reports about a sea hare with a shell, called Akera bullata. It is not a nudibranch, but a sea slug of the order Anaspidea. I had never even heard about this animal before! They had found it on three meters depth, just 50-100 meters from the pier. I was mentally prepared to do a long search if necessary. My room mate for the week, Poul Erik Rasmussen, knew the purpose of my dive. He found a sea hare and brought it over to me. I actually got it served and could immediately start to take my shots. I spend almost half an hour, shooting it from all possible angles. When I finally was satisfied, my eyes fell immediately onto another creature that I had never seen before. A little translucent, white creature was looking up at me from within the red algae. The shape told me this was a juvenile eel, often called glass eel.
My first encounter with a glass eel (new species).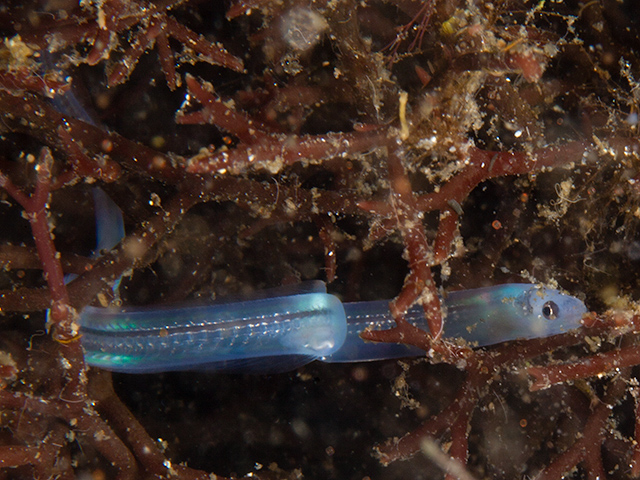 Glass eel is what we call a juvenile eel that has just arrived to Norway from the Sargasso Sea. Although in alarming decreasing numbers, they still arrive to Norway, brought to us by the Gulf Stream. Most of them enter freshwater, where they mature into fertile adults. We know they reenter the sea, but how they are able to return to the Sargasso Sea, this time against the Gulf Stream, we do not fully understand.
A silent drama.
I think my favorite photos on Seawater.no are those which are pleasant to watch, describe the species well and tell a story. I feel the image below fulfills all those criteria and it has become my favorite from this years Nudibranch safari, despite the obvious lack of nudibranchs.
The sea spider, Nymphon gracile is abundant at Gulen, and usually caused no special attention from my side. This little spider however, climbing in a hydroid, made me stop. At first, it just looked like a nice motive with a potential dark and blurred background (check), perfect to make a little sea spider stand out in the picture (check). When closing in, I realized it had eaten most of the hydroids, and only two polyps remained. They were waiting to be eaten, unable to flee as they are. There was the story (check).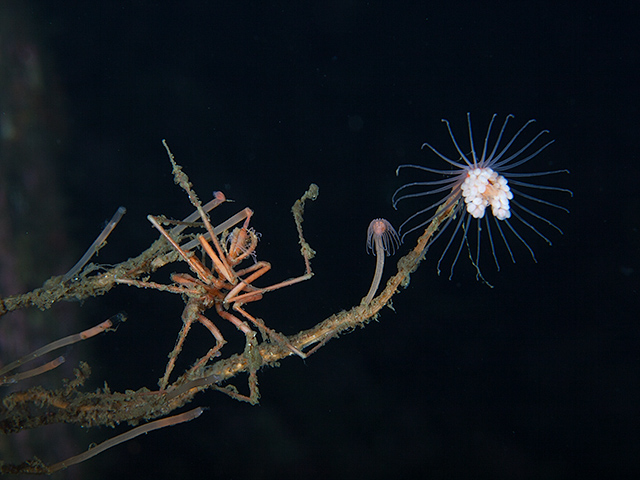 Charmed by colors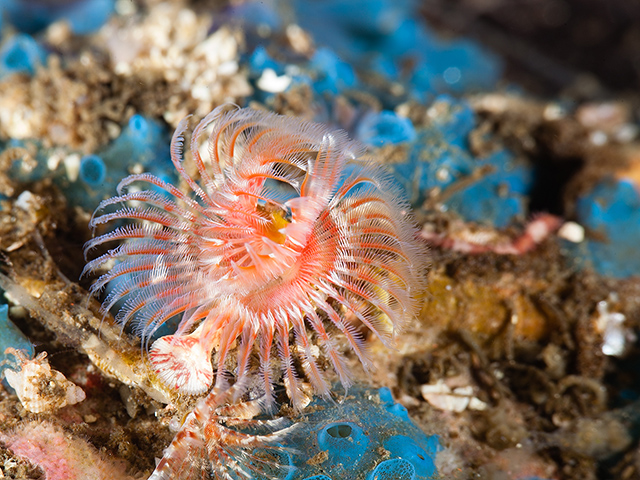 OK, sometimes nature just bombards you with colors, and you just have to shoot back, even if you cannot check out all three criteria above. This was the case when I met this little tube worm, surrounded by the blue sponge, Hymedesmia paupertas.